Amyali by Yelo
Yelo membership (Amyali) exceeds the concept of earning and redeeming miles. We have 3 tiers of members and based on their tier; our members benefit of discounts with our partners. We are working on having various partners ranging from airline companies, hotels, to restaurants and gyms.
Because we are one family, as long as you are an Amyali member, you can add your family members to your account and they will be able to enjoy all the benefits related to your membership. They will also be able to earn and redeem miles faster when renting a Yelo car.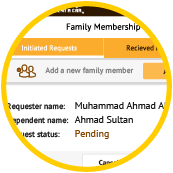 Each family member will be able to enjoy all benefits offered based on the membership tier and will earn miles when renting from Yelo allowing them to redeem rewards miles faster than before.